Dear Japanese colleagues within healthcare, technology and research ,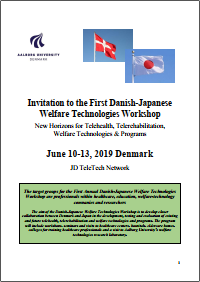 On behalf of the JD TeleTech, we would like to invite you to Aalborg, Denmark for the First Annual Danish Japanese Workshop on Welfare Technologies: "New Horizons for Telehealth, Telerehabilitation and Welfare Technologies and Programs", to be held in Aalborg, from June 10-13, 2019.
Aims of the workshop are
To create dialogue and collaboration between Japan and Denmark within telehealth, telerehabilitation, welfare programs and technologies
To create the framework for collaboration between Japan and Danish universities, hospitals, municipalities and industry for developing, testing and evaluating telehealth/telerehabilitation and welfare technologies
To facilitate the development of new products, methods, and solutions for health-related diagnostic, treatment, and rehabilitation tasks in private/public partnerships between Japan and Denmark
To present to our Japanese colleagues the structure and everyday operation of the Danish health system within elderly care, disease management for patients with chronic diseases and social welfare.
Detailed information, program and link to registration will be available here.
Workshop participation is free of charge. There is no registration fee of any kind. Participants must cover their own travel and lodging expenses. During the workshop there will be free transportation to special activities in the towns of Viborg and Skive.
Registration before May 17, 2019 Registration for workshop activities is mandatory.
We are looking forward to seeing you in Aalborg.
Best Regards,
Birthe Dinesen
PhD, Professor & Head of the Laboratory for Welfare Technologies – Telehealth & Telerehabilitat