We are honored that Ms. Masako Wakamiya from Japan today visited Laboratory for Welfare Technology – Digital Health & Rehabilitation, Aalborg University.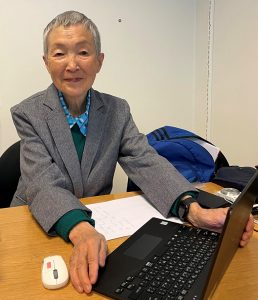 Ms Wakamiya is 87 years old and started getting IT knowledge/skills in the late 50s and has become IT evangelist. She is known as the oldest application developer in the world, and because of it, she was invited to WWDC by Tim Cook, CEO, Apple in 2017. When Tim Cook visited Japan, she met him upon his request. Furthermore, she had a talk show with Audrey Tang, IT Minister of Taiwan last year. She has a broad network also in Japan and been respected by the staff of Digital Agency and other IT related agencies/sections in Japan.
Ms. Wakamiya is in Denmark this week exploring how elderly persons use digital services in Denmark and how we deal with digital inclusion in practice. We had a fruitful discussion.
Ms Wakamiya also had a visit at Lundbygades Nursing home in Aalborg Municipality today.